January 10, 2022
Welcome to the Smart2Go Design Contest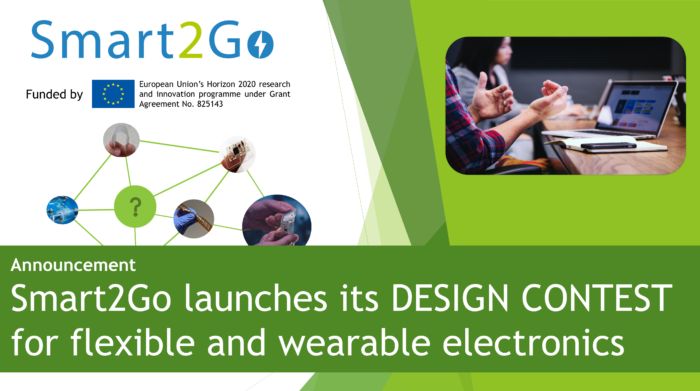 About the Contest
The Smart2Go Design Competition invites designer proposals for Flexible and Wearable Electronics products using the features available in the Smart2Go platform, as micro-batteries, supercapacitors or electrolytic capacitors, photovoltaic and thermoelectric energy harvesting.
The competition is open to individuals, groups and organizations from every country in the world. There is no limit on the number of entries per person. Participation is free. Further interaction with Grant Winner occurs after award of prize.
The Timeline
Competition launched: 10.01.2022
Phase 1: Sketch and submit your ideas
Contest entry due to: 21.02.2022
Top 3 Finalists are announced: 14.03.2022
Phase 2: Developing Top 3 Finalists' ideas further with technical experts
Detailed ideas due to: 25.04.2022
Grant Winner announced: 09.05.2022
Smart2Go Workshop: to be informed in the second half of May 2022
The Award
Grant Winner Prize: 5000 euros
Design Evaluation Criteria
Jury of the Contest will evaluate your design considering the following criteria:
Design uniqueness: originality of the idea
Market potential: design can be sold through channels familiar to the market segment
User experience: how the design enhances user experience
Feasibility estimation: technical feasibility and performance
Sustainability: improve a green perspective on applications using the platform
 Additional information
The following information will help you make sure your entry meets competition requirements and that you understand the parameters and process. Best of luck to you!