April 23, 2019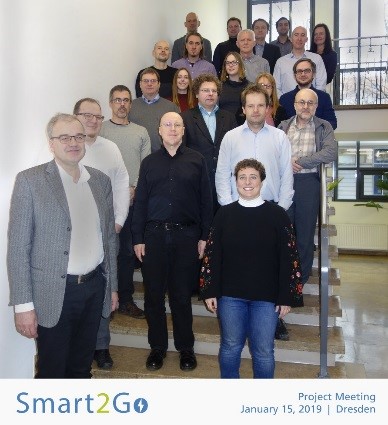 The Smart2Go project, officially started on 1st January 2019, organized its first meeting on 14-15 January 2019 in Dresden (Germany) at the Fraunhofer FEP Institute. Smar
t2Go is a project funded by the European Union's Horizon 2020 research and innovation programme aiming at the development of an autonomous energy-supply platform. Based on the results of the project it will be possible to use a wearable without caring about recharging over its entire lifetime. More information about the project can be found at www.smart2go-project.eu (full version available in April 2019).
During the meeting, 9 EU innovation performers (researchers and companies) involved in flexible electronics and energy scavenging and storage and 2 industries with very challenging product use cases discussed the work plan for the development of materials and components to be integrated in the energy storage and harvesting system.
The participants had also the opportunity to visit the laboratories of the Fraunhofer Institute for Organic Electronics. The institute offers a broad range of research, development and pilot manufacturing opportunities, especially for the treatment, structuring and finishing of surfaces as well as for OLED microdisplays, organic and inorganic sensors, optical filters and flexible OLED lighting.
External experts in the field of standards for printed electronics, design and development of flexible electronics based products and R2R coating, printing and laminating manufacturing processes also participated to the Smart2Go meeting. The Smart2Go External Advisory Board (EAB) is set up with the aim to receive support in the following aspects: 1) Exploring new applications and interaction with the end-users; 2) Interaction with industrial integrators and manufacturers; 3) Standardization and pre-normative activities and 4) Networking, clustering and interaction with SMEs associations.